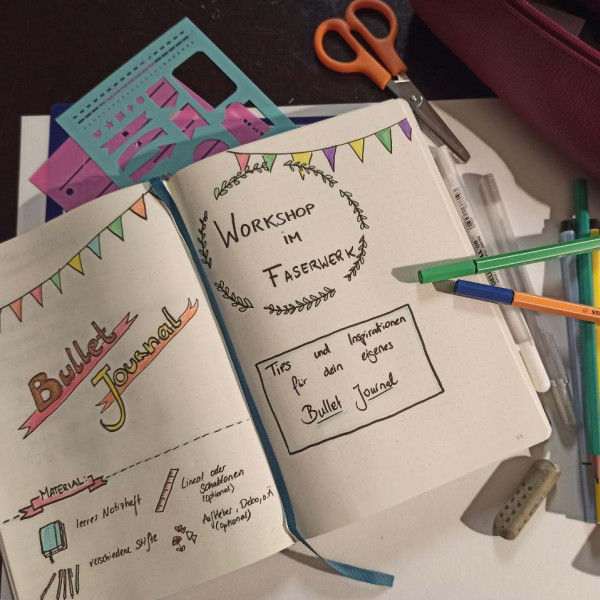 Wed | 14.12.2022 | 18:00
Urban culture: Bullet Journal homemade
Workshop
A bullet journal is a notebook you design yourself - how your bullet journal looks and how you use it is up to you. It can be a notebook, to-do list, diary, calendar and reminder all in one. It can hold your whole life. A place for all thoughts - this can make everyday life easier, more structured and more beautiful.
My self-designed notebooks have been with me for about three years now. The workshop is a small practical introduction to the techniques, design possibilities and content, how a bullet journal could look like. Feel free to bring your blank notebook, but we'll also have some blank pages for you to practice on. I recommend a notebook with dotted, not too thin pages, but again, that's a matter of taste. No previous experience, artistic skills or special materials are required.
A maximum of 6 participants can take part, please register beforehand via the mail address
kontakt@faserwerk.info
beforehand.
Course location:
Fiberworks
, sewing studio, Ottostr. 77 , 31137 Hildesheim
Course times:
18:00 - 20:00 clock
Please inform yourself in time about the current hygiene regulations: Corona rules.
Admission: on a donation basis
Admission: 18:00
Start: 18:00
Room: Fibre Mill
Organiser: Faserwerk
From 18: no